Tombstone nb. 700-1
Person: COHEN (COHN), Meyer Moses
- alias "Meyer Moses KOBER"
hosekræmmer,
Hebr. name: Meir ben Mosche Kober
Date of burial: 1815,21.11
Place of burial: Mollegade (Cph.) E-19-25
identified stone
- see neighbouring burials in the row *)
Note: Trykfejl i JD 0 for ingen sten
Cross-references:
Danish-Jewish Genealogical Database (requires membership of SDJH/JGS)


Location of the tombstone/grave
*) Burials of a row normally follow a strict chronological order broken only by a few "late" burials where surviving relatives have reserved neighbouring places. An empty place (or "unknown" burial) may indicate that the place for some reason was never used as planned. So far it is important to study neighbouring burials from a genealogical point of view.
---
login to view photo in full quality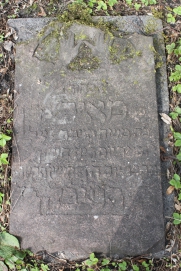 Photo AF apr. 2011
På kortet har M. oprindeligt anført, at der ikke var nogen sten. Det røde minus herfor er så med blåt rettet til et kryds og liegledes med blå skrift er anført fn. "Stenen fundet Juni 1959 i en Have på Mylius Erichsensvej" (sic! M.s egen skrift).