The Jewish Cemetery in Assens
Choose a section (A or B) to get to the tombstones of the separate rows.
This part of the database of the oldest Danish-Jewish funerals concerns the cemetery in Assens and is based mainly on the book by Julius Margolinsky "Jødiske Dødsfald i Danmark 1693-1976", Cph. 1978 pp. 617-20, and on his handwritten archive (see Allan Falk "Margoteket", JGS-Nyt Nr. 3 Vol. 5, September 2008). All photos in this part has - unless something else is indicated - been taken by TB in July 2010.
The small cemetery of Assens is located on a narrow traffic-free street Kildebakken (formerly called "Jødebakken", i.e. the "Jew-Hill") in front of the Christian cemetery Assistens Kirkegård. Only half of the 47 known burials has locatable graves. 23 burials have in Margolinsky's book and archive no indications of positions.
The cemetery has been in use 1827-1914. Some few very young burials are not included in the present database. Section A (on the right of the entrance) has four rows and section B (to the left) three rows, each row with about eight burials.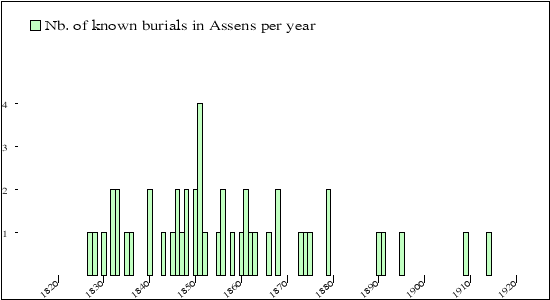 Tom Brøndsted, Aalborg Jan. 2011